Dear GVCP Members,

This came originally from our friends in the Syracuse Peace Council.

Arnie Matlin for GVCP
---
Please share widely…..
From: spcannouncements-request@lists.riseup.net [mailto:spcannouncements-request@lists.riseup.net] On Behalf Of Carol Baum
Sent: Friday, June 17, 2016 5:50 PM
To: SPC Announcements; PEACE-LIST@LISTSERV.SYR.EDU; SPC Ground the Drones
Subject: [spc] Join the German people to close US' drone base in Germany

You're needed to sign a petition <http://act.rootsaction.org/p/dia/action3/common/public/?action_KEY=12254> to close the U.S. Ramstein Air Force Base in Germany

Ramstein plays a crucial role in U.S. drone attacks in the Middle East and Africa.

About the petition
The petition calls for closing the Ramstein Air Base and not replacing its functions anywhere else. It will be delivered in September to the German government by U.S. drone whistleblowers and also to the U.S. government in Washington D.C.

What happens at the U.S. Ramstein Air Base?
Ramstein as the high-tech heart of America's drone program – it is the site of a satellite relay station that enables drone operators in the U.S. to communicate with drones in Yemen, Somalia, Afghanistan and other targeted countries. For details see the investigative report <https://theintercept.com/2015/04/17/ramstein/> by Der Spiegel and The Intercept.

What does the German government think about this?
The German Bundestag(Parliament) has established a committee to investigate the NSA (National Security Administration) activities in Germany and also possible German assistance for the extra-judicial U.S. drone killings via intelligence sharing and the satellite relay station at Ramstein. If the German government wanted, it could forbid the use of the satellite relay station for drone killings. Family members of drone victims in Yemen and in Africa have demanded this in court cases against the German government.

And what about the German people?
Last Saturday, on June 11, thousands of Germans came to form a human chain around Ramstein Air Base and demand the U.S. drone war via Ramstein stop.
See (among others):

And what about you?
Again, please sign the petition <http://act.rootsaction.org/p/dia/action3/common/public/?action_KEY=12254>.
For questions or to participate in the Syracuse Peace Council's Ground the Drones, End the Wars work, contact
Carol at carol@peacecouncil.net or 315.472.5478.
(And we demonstrate every 1st and 3rd Tuesday from 4:15-5pm at Hancock (Drone) Airbase on E. Molloy Rd. in Syracuse.)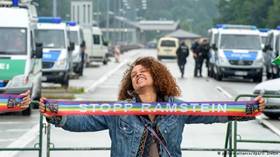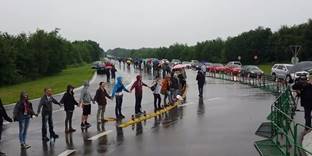 ———————————————————
This messages comes to you courtesy of the
Syracuse Peace Council. For more about the Peace Council, see www.peacecouncil.net <http://www.peacecouncil.net> or call us at 315-472-5478.
SPC Announcements listserv is an announcements listerv, in which subscribers receive a limited number of emails per week from the Peace Council. If you wish to engage in email conversation, check out the Peace-List and our other listservs at http://peacecouncil.net/stay-in-touch
To unsubscribe, send an email to:
spcannouncements-unsubscribe@lists.riseup.net
____________________________________________________________This list is for Peace Action affiliate leaders, staff and board members.You received this message as a subscriber on the list: paaffiliates@xmail.peace-action.orgTo be removed from the list, send any message to: paaffiliates-unsubscribe@xmail.peace-action.orgTo be added to the list, send any message to: paaffiliates-subscribe@xmail.peace-action.orgTo change your email preferences, your email address and access shared files see: http://xmail.peace-action.org/lists/info/paaffiliates
—— End of Forwarded Message