Our next Zoom meeting is Saturday, 4/24, at 1:30 PM. We are extremely happy to welcome our special guest speaker, Dr. Assal Rad. Her topic will be "The Iran Deal."  (The Joint Comprehensive Plan of Action or JCPOA). The Iran Deal is an important program for peace and progress in the Middle East. The Iran Deal was supported by President Obama and ended by President Trump. President Biden has pledged to bring the U.S. back into the JCPOA, but so far he hasn't done so. Our guest speaker will guide us through the intricacies of the JCPOA, and suggest a course of action.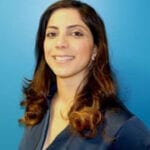 Dr. Assal Rad is a Senior Research Fellow at the National Iranian American Council (NIAC). She received her PhD in Middle Eastern History from the University of California, Irvine in 2018. Her PhD research focused on modern Iran, with an emphasis on national identity formation and identity in post-revolutionary Iran.
Dr. Rad works with the policy team at NIAC on research and writing related to Iran policy issues and U.S.-Iran relations. Her writing can be seen in Newsweek, Independent, The National Interest, and Responsible Statecraft. She has appeared as a commentator on NPR and the BBC.
Watch the video below